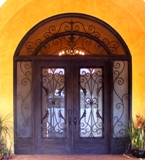 (PRWEB) June 27, 2012
Universal Iron Doors a California based company that provides custom iron doors and railings have continued to grow because of its competitive prices for quality work. The new ad campaign is educating the public on the affordability of custom iron doors, and that the doors can be shipped anywhere in the United States. The marketing campaign will target popular search terms on the internet such as, iron doors custom Iron doors and iron railings .The Company has been manufacturing and installing custom doors for a decade with many satisfied clients. Universal Iron Doors produces superior iron doors and the consistency of the service is what separates them from the competition. The custom made iron doors can be created to match any design and dimensions imaginable. Customers can and add value to their homes with an addition of custom iron work. The service is not only for homes, but iron doors are also a beautiful addition for restaurants, hotels, apartment buildings, churches and businesses.
All custom wrought iron doors are finished with a 7 step process; Zinc Coated, Sand Blasted, Primed, Baked, Painted, Faux Finished and Clear Coated. Examples of the companies work can be viewed on the "Products" section, there; one can see the wide selection or wrought iron work. The can be reached toll free 1-877-366-7713 or visit the companies showroom for pricing on custom wrought iron products. http://www.iwantthatdoor.com/
The company has a simple ordering process, regardless of the design of the door, the price remains the same. The pricing is based on square footage. All designs are available in single and double door designs and can be flat top, eyebrow arch top or full round arch top. In almost ten years of business Universal Iron Doors has sold over 15000 doors to clients all over the United States.
About the Company: Universal Iron Doors sells quality iron doors, gates, railings, lamps, and other iron hardware. The company has five generations of blacksmithing knowledge and techniques and exceptional materials. All doors are hand forged and hand painted. Specializing in craftsmanship and quality; all doors are rigorously checked for perfection. Universal Iron Doors has been in business for ten years and guarantee all products with a seal of quality; they will arrive with no deformities of any kind.
Contact:

Mason Baxter

Phone: 877-957-2244

Email: info(at)knackmedia(dot)com
Find More Faux Painting Techniques Press Releases
No related posts.